My Rating:
Written by: A. J. Pine
Series: Crossroads Ranch
Sequence in Series: Book 1
Mass Market Paperback: 320 pages
Publisher: Forever
Publication Date: February 27, 2018
ISBN-10: 1538727064
ISBN-13: 978-1538727065
Genre: Contemporary Ranch Romance
Once a cowboy, always a cowboy
Ten years ago, Jack Everett left his family's ranch without a backward glance. Now, what was supposed to be a quick trip home for his father's funeral has suddenly become more complicated. The ranch Jack can handle---he might be a lawyer, but he still remembers how to work with his hands. But turning around the failing vineyard he's also inherited? That requires working with the one woman he never expected to see again.
Ava Ellis broke her own heart the night she let Jack go. She was young and scared---and secretly pregnant with Jack's baby. Now that he's back and asking for her help, Ava sees her opportunity to right the wrongs of the past. But how will he feel about the son he's never known? Could this be their second chance---or their final heartbreak?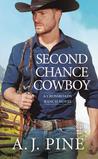 Second Chance Cowboy
by A.J. Pine
Ava Ellis has never gotten over Jack. She let him go 10 years ago when he was setting his sights on a career as a lawyer. But now he's back for his father's funeral and he's thinking of her too.
Its all about second chances. A chance encounter, a connection that cannot be denied and a love that never could be forgotten.
Pine perfectly struck that emotional cord, invested her readers and took us into the hearts of her characters. 5*
I received this ARC copy of
Second Chance Cowboy
from Forever - Grand Central Publishing. This is my honest and voluntary review.
Second Chance Cowboy
is set for publication Feb. 27, 2018.