The Librarian's Vampire Assistant
Mimi Jean Pamfiloff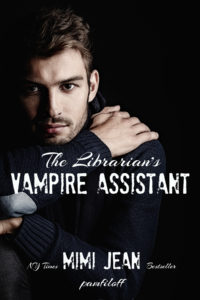 Series: The Librarian's Vampire Assistant - Book 1
Publisher: Mimi Boutique (February 26, 2018)
Publication Date: February 26, 2018
Genre: Paranormal Fantasy
Print Length: 169 pages






Synopsis:
From New York Times Bestseller, Mimi Jean Pamfiloff
comes a Horribly Sunny Mystery, The Librarian's Vampire Assistant.
NOBODY MESSES WITH HIS LIBRARIAN. . .
Who killed Michael Vanderhorst's maker? It's a darn good question. But when the trail brings Michael to hellishly sunny Phoenix, Arizona, his biggest problem soon becomes a cute little librarian he can't seem to stay away from. He's never met a bigger danger magnet! Even her book cart has it out for her. And is that the drug cartel following her around, too? "Dear God, woman! What have you gotten yourself into?" Things go from bad to worse when local vampires won't play nice. Can this four-hundred-year-old vampire keep his librarian safe and himself out of hot water? Can he bring his maker's killer to justice? Yesterday, he would've said yes. But yesterday, he didn't have a strange connection with a librarian. Yesterday, people weren't trying to kill her.
BUY LINKS
AMAZON
|
KOBO
|
B&N
|
iBOOKS
| PAPERBACK Coming soon!
The Librarian's Vampire Assistant

by Mimi Jean Pamfiloff
Welcome to Phoenix, Arizona, the land of sun, more sun and vampires? Four hundred-year-old, baby-faced Michael Vanderhorst is on a mission to pick up his maker's ashes, who knew he would find himself checking out the cute librarian at the private library? Who knew he would find himself in the middle of a mystery to discover who killed his maker, how and why or that his klutzy librarian was always targeted for murder by the local vamps?
I know, I know, an unlikely location, an unlikely attraction and a mystery that Michael is determined to solve, clearly this has the marking of only one author…Mimi Jean Pamfiloff has unleashed a new book and a new series on the world! THE LIBRARIAN'S VAMPIRE ASSISTANT is here! Sunscreen in hand, attitude just barely in check, Michael is on a mission, which includes story hour at the library for the kiddies and long dead emotions bubbling to the top as he brings his own brand of investigating to the Grand Canyon state. Will he need a library card to continue to check out the little librarian?
Fun, fast and filled with attitude and humor, signature MJP! The world of vampires will never be the same!
I received a complimentary ARC edition from Mimi Jean Pamfiloff!