Rating:
Written by: Alana Delacroix
Series: The Masked Arcana
Sequence in Series: 2
Print Length: 303 pages
Publisher: Lyrical Press
Publication Date: April 10, 2018
Sold by: Penguin Random House Publisher Services
Genre: Paranormal Romance
A PERFECT DISGUISE
As security chief of the supernaturals' ruling council, Michaela Chui has seen more than her fair share of disaster. For centuries, she's survived through caution and strategy. But when the only human councillor is viciously murdered, Michaela knows the coincidences that keep blocking her investigation are a sure sign of bad things to come. She needs answers fast. And her only ally is Cormac Redoak: wild, unpredictable, unreliable—and worse, distractingly attractive.
A HIDDEN TRUTH
An exile from the court of the Fairy Queen, Cormac has all the experience with careful strategy and veiled intentions he can stand. But he also has the fey talent for getting his way, and he's sure his way lies with Michaela's. No matter that she can change her lovely face at will; there's a clarity to her being that he'd know anywhere. Working with her will be temptation and frustration bound together. Somehow, though, he must convince her to trust him—without revealing the secrets he dares never share . . .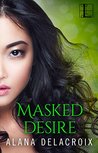 Masked Desire
by Alana Delacroix
This is my first read in this series, so I jumped right into book 2 with no difficulties in picking up what was going on.
Michaela is a masquerada, someone who can take on anyone's appearance, and sits as a member of the highly secretive council for the Arcane.
When another council member is murdered, Michaela, chief investigator, is teamed up with Cormac, a pretty powerful but exiled fae, who volunteers to be a watcher (supervising the investigation).
Michaela is not the trusting sort so when they accidently become mated in the middle of their investigation it only exacerbates their ability to weave through the differences between Arcane factions, political views and power plays. Even though it's a paranormal romance, Delacroix balances the paranormal and romance aspects seamlessly keeping both side strong.
Fun, fast and entertaining. Delacroix blends a strong balance mystery, murder, mayhem and fantasy.
I received this ARC copy of
Masked Desire
from Kensington Books - Lyrical Press. This is my honest and voluntary review.
Masked Desire
is set for publication April 10, 2018.