The Ghost
by Jessica Gadziala
My rating: 5 stars
Series: Professionals - Book 2
Publication Date: April 18, 2018
Publisher: Jessica Gadziala
Genre: Erotic Suspense
Sloane has everything she thought she ever wanted- a great career, a great apartment, great clothes, a life she had worked hard for.
Until one night, one chance encounter, one decision that changed everything.
With no options left, she enlists the help of Quinton Baird & Associates, who promptly inform her that she has to leave it all - the career, the apartment, the life she had worked so hard to build for herself - behind.
If all that wasn't enough, her entire future - and life in general - was in the hands of a man whose coworkers called 'The Ghost.' Because that was what he did; he ghosted people, hid them, gave them new lives, made them impossible to find.
With no other choice, she agrees to his terms, climbs in a car with him, and travels almost clear across the country toward her new life. But the long hours on the road - and even longer hours in cabins and hotel rooms - together start to show her things. Like how unhappy she had actually been, how hollow her life was, how much she had denied herself in the name of superficial success.
And maybe, just maybe, how much she was starting to see how wrong first impressions can be, and how much a person can begin to mean to you when you decided to let them in…
The Ghost by Jessica Gadziala (Professionals, #2)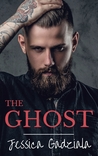 Prepare to meet the ultimate badboy/good man. This is the kind of ghost story that will melt the hearts of every soul who reads it. NO, Jessica Gadziala hasn't gone soft on us, her anti-heroes haven't lost any of their edge or their honor or their heart.
Gunner is
THE GHOST
because he is good at what he does. He makes people disappear for their own good, but when the beautiful, successful, yet cold, Sloane with-the-hyphenated-last-name enters the offices of Quinton Baird & Associates, her life and her safety becomes Gunner's responsibility. Too bad he isn't too sure she is worthy of his talents, but her money is good and she paid a lot to lose all she has worked for. Now Gunner will deliver her to a new life, a new beginning and wash his hands of ever knowing her.
What Gunner wasn't expecting from the Ice Queen was a woman terrified of life, a product of an upbringing that left her scarred and needing to prove to the world and herself that she is more than she was given credit for. Maybe they have more in common than meets the eye.
Sometimes you CAN get a second chance to make a good impression…and sometimes love finds you when you least expect it.
Jessica Gadziala has raised the bar one more time! She is known for her grit, her dark romance and no holds barred style of writing. NO, she definitely has not gone soft, her writing has grown, her characters are even more brilliantly developed and they are swoon-worthy, wrapped in a shell of armor, just waiting for the right someone to break that shell and give them a reason to believe in love and trust.
There is nothing more magical than a hero with a heart, willing to give it away or a heroine whose damaged past can be soothed by a good man to believe in. Guess that makes Jessica Gadziala a magician with her words!
I received a complimentary ARC edition from Jessica Gadziala!