My Rating:
Written by: Christina Bauer
Series: Fairy Tales of the Magicorum
Sequence in Series: #1.5
Publisher: Monster House Books, LLC
Publication Date: May 27, 2018
Genre: YA | Scifi | Urban Fantasy
After battling werewolves and evil aunties, Bryar Rose is ready to enjoy her new life. No more crazy aunties. Her curse is toast. And Bry's new man, Knox, is literally a dream come true. Best of all, Bry will soon attend a regular high school. Forget those sketchy tutors! To get ready, Bry is dedicating the rest of her summer to some serious back-to-school shopping with her best friend, Elle. It's a blast, except for one thing:
Mysterious strangers are following Bry across Manhattan.
All these stalkers have oddly familiar scents and an uncanny ability to slip into the shadows whenever Bry tries to confront them. Even worse, their presence is making Knox act crazy with a capital C.
But Bry's having none of it. Enough of her life has already been ruined by secrets. With Elle's help, Bry plans to confront these strangers, find out what they want, and send them packing. Trouble is, the truth about their identity won't be so easy to manage, especially when Bry finds out how these stalkers could change her future with Knox…and not for the better.
*An interim novella between WOLVES AND ROSES and SHIFTERS AND GLYPHS***
FAIRY TALES OF THE MAGICORUM
1. Wolves And Roses (Fall 2017)
1.5. Moonlight and Midtown (Spring 2018)
2. Shifters And Glyphs (Fall 2018)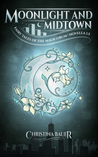 Moonlight And Midtown
by Christina Bauer
Bryar Rose is adjusting to her new life now that she can shift. Shifting is the big problem, especially when her wolf pushes her to shift at the most inconvenient of times. This pushes Knox, Bry's boyfried, to drastic measure to help Bry control her wolf.
Bry also goes on a shopping adventure to find the perfect outfit, a magical outfit, that will stay with her while shifting since she is exploding all her clothes. You never thought shopping was a dangerous adventure until you go with Bryar Rose.
I enjoyed
Moonlight and Midtown
but I had no connection to the characters and I believe its because this is not a stand alone read. Maybe if I read
Wolves and Roses
, I would of been more invested in a shopping trip and tangle with an evil fairy queen. From the synopsis, this is my kind of series. I would like the opportunity to read book 1 and see how I feel about 1.5 before I had to rate it... it stands now its 3.5 for me.
I received this ARC copy of
Moonlight and Midtown
from Monster House Books LLC. This is my honest and voluntary review. b>Moonlight and Midtown is set for publication May 27, 2018.