I Promise
by Tonya Coffey
My rating: 5 stars
Series: A Night Hawks Saga - Book 1
Publication Date: June 25, 2018
Publisher: Tonya Coffey
Genre: YA MC/Romantic Suspense
Paperback: 200 pages
Do you remember your first high school crush? Would he jump into danger for you? Mine did... My daddy warned me to not walk down Cider Avenue after school. I thought the threat on my life was nonsense, just like the other times before... But when arms engulfed me, tugging me into a van, on that very street, I wished I had listened. My only hope is in the motorcycle club, Night Hawks. I couldn't deny, the son of the club's president had swept me off my feet. I was drawn to the boy with rugged looks and a heart of gold. As my world collapses into chaos, will he pull me from the clutches of my enemies or will our families be drawn into a war of blood, guns and broken promises?
I Promise

by Tonya Coffey (Night Hawks Saga, #1)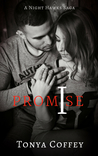 She is the Sheriff's daughter, he is the son of the local motorcycle club's president, but
I PROMISE
is NOT your typical young adult forbidden romance! Tonya Coffey has taken the good girl/bad boy attraction and blurred the lines completely when Cora ignores her father's explicit instructions and finds herself a pawn in a vicious game of revenge and her knight in shining armor comes riding up on a Harley.
Growing up is hard to do. Dante is the heir apparent to the Night Hawks motorcycle club. He isn't an innocent teen, but he isn't a total badass biker, either, he is just a boy with a man's sense of honor and a heart of gold that belongs to Cora.
Tonya Coffey has embraced the voices of two teens, brought their thoughts to life and made me feel I was in their heads and hearts. She made me remember pushing the limits as a teen. When Cora pushes the limits her father has given her, she has no idea why, so armed only with her own sense of invulnerability, she pushes that boundary and finds her life in danger and her rescuer is Dante, the last person she thought she would see, after all, her father is the law.
Confused, alone and in a strange environment, Cora will learn just how much Dante means to her and how fragile the "bad boy" is. What she still doesn't know is the "history" her father shares with the Night Hawks president. She just knows Dante is the boy she wants and he wants her, too.
Perfectly tailored to a young adult audience, there is the thrill of danger, of uncertainty of being thrust into a foreign world and of seeing there is more than meets the eye in every person.
This could be Tonya Coffey's best creation yet! She has nailed the emotions, the turmoil and the suspense of another battle of good versus evil when innocents become pawns and heroes rise to the top! Proof that you can't judge a person by their cut, but by their heart. Truly a hidden gem that shines bright for all ages!
I received a complimentary ARC edition from Tonya Coffey! :)