The Unblessed Dead
by Rhiannon Frater
My rating: 5 stars
Series: The Hidden Necromancer - Book 1
Publication Date: April 10, 2018
Publisher: Rhiannon Frater
Genre: Dystopian Fantasy
Print Length: 267 pages
When I [was] younger, my mother saved my settlement from the Unblessed Dead that would have killed us all. It cost her everything to reveal her necromancy and sent shockwaves through our stringent religious settlement. Convicted of heresy against our sacred Lost Texts, she died soon after.
Since then, I have worked hard to maintain my Pious Standing so that when I turn eighteen I will be selected by a suitable husband at the Bridal Auction.
As the large clock in town square ticks down to my eighteenth birthday, the dead have been appearing in my garden. If I'm discovered, I'll face the Necromancer Trial just as my mother, oldest sister, and I did all those years ago. This time I fear I will not survive it.
To add to my worries, an enigmatic handsome young man has arrived in the settlement. Around him swirls a green aura only I can see. Is he here to help me? Or does he have more nefarious plans?
My name is Ilyse Nott, and I fear I am a necromancer.
If I am, my life is over.
The Unblessed Dead

by Rhiannon Frater
(The Hidden Necromancer #1)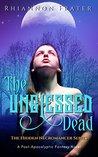 In a dystopian world, where religion has been bastardized, men dominate unfettered and women are property, forced to live by oppressive rules, Ilyse Nott struggles with remaining "plain and pious" in a world who has judged her for supposed the sins of her mother. She must live with the knowledge that her mother a secret necromancer, saved her village from certain zombie death only to be tried, convicted and put to death for her efforts for heresy.
Ilyse is guilty by association and possible heredity, yet has passed the "test" that "proves" she does not consort with the dead. Still, she is a pariah, and now the walking dead are showing up in her garden and she has no idea what that means… With the Bridal Auction coming, no one will offer for her, no matter how desperately she adheres to the twisted religious tenets of her village, until a stranger comes to town and she may finally have an ally, or does this man also have an agenda regarding Ilyse?
Rhiannon Frater's
THE UNBLESSED DEAD
is a tale of zombies, necromancy, innocence and the corruption of a world where oppression begets fear and no one can be trusted. Seeing her world through Ilyse's eyes and heart will cause any free-thinking human to cringe. Yes there are zombies, sure they can rend flesh from bone, but that is not the main thrust of the story here. It is a story of manipulation and repression, and the soul-deep turmoil of one teen searching for acceptance and happiness.
Not a fast-paced read, there is so much to absorb, take the time to leave reality behind and imagine yourself living in this world…definitely cringe worthy, and I am NOT talking about the zombies!
I received a complimentary copy from Rhiannon Frater!