Planet Talzor Needs Brides
by Eva Gordon
My rating: 4 stars
Series: Shalhinari Space Chronicles - Book 1
Publication Date: October 3, 2018
Publisher: Eva Gordon
Genre: Scifi | Fantasy Romance
Print Length: 235 pages
Mitzi leads a quiet life as a professional matchmaker. Her cozy life is turned upside down when she is chosen as the matchmaker for an alien species searching for wives. Naturally, she refuses. Unfortunately, she's having a hard time saying no to the dashingly handsome but domineering alien warrior. Although, he makes her heart flutter, it's a good thing he's not her type.
Jax, captain of the Talzor starship, is ordered to hire a shalhinari, a spiritual matchmaker, to find soul mates for six of his men. He locates the best shalhinari on Earth; yet, Mitzi Selig the earthbound woman tries his patience. To his distress, he is drawn to her beauty, questioning his judgment. Worse, his long suppressed empathy gene awakens, a trait not seemly for a warrior.
The magnetic pull between Captain Jax and Mitzi is astronomical. Yet, can a tormented warrior and a woman who refuses to leave Earth find love? A long light-year distance relationship is one thing, but looming danger could curtail any chance for their star-crossed passion.
Planet Talzor Needs Brides

by Eva Gordon
(Shalhinari Space Chronicles, #1)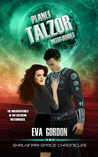 Matchmaker, matchmaker, make me a match that's out of this world! Mitzi heads a once successful matchmaking service, things aren't going so well, so when new "clients" came from the planet Talzor, seeking six Earth brides for six warriors, Mitzi finds herself unable to say no to the handsome, yet off-putting Captain Jax. But really? Find soulmates for another planet?
Eva Gordon fills
PLANET TALZOR NEEDS BRIDES
with humor, heart and a lot of needling tension between the solemn, harsh and domineering captain and the rather emotional, independent Mitzi. She may find more than she bargained for and he may find that just maybe he has a heart, after all!
Sexy, sassy, chaotic and full of great dialogue, Mitzi and Jax accidentally find intergalactic attractions out of this world!
I received a complimentary copy from Eva Gordon!