Alice in Monologue Land
by Amy Gettinger
My rating: 4.5 stars
Publication Date: April 8, 2015
Publisher: Raucous Eucalyptus Press
Genre: Women's Fiction | Humor
Print Length: 375 pages
A fun, light, adventure-filled novel full of real women with curves and stage fright. A balance of humor, mystery, and romance.
When adjunct English instructor Alice Chalmers gets roped into reading a part in an upcoming campus production of The Venus Monologues, her life spirals out of control. The teaching job of her dreams is open, but the staid hiring committee won't appreciate seeing her on stage discussing the "V-word." Pressured by her dean to perform, Alice is in monologue hell. When she calls the production "The Venomous Mambas" or "The Viral Meningitis," her children howl. But Alice has more pressing problems: some of her female students are disappearing.
At monologue practices, Alice meets the Venus Warriors, a fearless group of college women who cheerfully dish on men, menstruation, and menopause while bonding through skydiving and workshops where ALL things feminine are explored. Add an odd trio of men who long to explore all things feminine with Alice, starting with her lips and moving toward her monologue zone. But seriously: A snake-loving professor in Birkenstocks? A chain-smoking student with a chin mole? Or a too-young Colombian coffee god? The choice makes her head hurt.
Things get rough when someone sabotages the monologues with loose stage wires and poisoned brownies. But when one female student is found dead and another is in peril, the Venus Warriors fly to the rescue, and Alice skydives smack into an alligator's nest of answers.
Alice in Monologue Land

by Amy Gettinger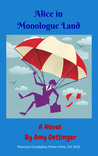 Practice your snort laugh, you are going to need it and its okay if someone hears you, it means another author has done their job! Amy Gettinger has a story to tell and it's one for regular women, and about regular women, because seriously, sometimes guys just don't get many of a female's issues or stumbling blocks in life. Meet Alice, single mom, struggling to make ends meet, be in three places at one time and now, a speaker for a unique women's literary event. And she is trying to find a way out of it, desperately, because, really who wants to read a poem or anything about female body parts. Alice isn't a groundbreaker, she's good with not being up close and personal with her, um, you know…and the oppression women have felt over being comfortable with their bodies? Can't call her a groundbreaker there, either.
Pretty sure you have figured out this is not drama, although Amy Gettinger does make some dramatic scenes come to life with a bit of mystery and edgy darkness. Ms. Gettinger is here to entertain and she succeeds admirably, from page one as she takes us through the chaotic life that belongs to her main character, Alice. From dark parking lots to students who are more than they seem, to pythons giving "hugs," one must admire the character Alice or pray for her survival.
A fun-loving read, perfect to bring sunshine to even the cloudiest day, Ms. Gettinger lets us know it is okay to laugh at ourselves, just in case we can identify with Alice and that reading less than lofty tomes brings a certain sparkle and shine to the literary world. I might suggest you hang on tight, this tale has more spins than a tilt-a-whirl.
I received this copy from Amy Gettinger in exchange for my honest review.