by Kandi J. Wyatt
My rating: 5 star - Childrens' Reading
Series: Dragon Courage - Book 2
Publisher: Updrift (December 8, 2015)
Publication Date: December 8, 2015
ASIN: B017JJKRZM
Genre: Children's fantasy
Print Length: 214 pages
In the ten winters since Kyanos was defeated, Rider Braidyn and his dragon, Turqueso, have made a place for themselves in the sleepy Boeskay colony. But when two nestlings are stolen from the hatchling cave, Braidyn's sense of justice leads him on a quest to find the person responsible.

After recovering one nestling, Braidyn recruits his old friends Ruskya and Carryl to help. The friends travel to a faraway desert colony where they find a group of riders with different customs, and meet a beautiful young woman who could be the key to finding the missing nestling. Can Braidyn learn to temper justice with mercy, or will he risk losing everything?

Journey along in this exciting fantasy world in the spellbinding second installment of the Dragon Courage series, Dragon's Heir, by Kandi J Wyatt.
Dragon's Heir

by Kandi J Wyatt (Dragon Courage, #2)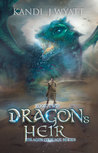 A mysterious stranger has contracted with a disgraced merchant to steal a precious dragon egg or nestling. Fueled by greed and anger, the merchant steals one for the stranger and one for himself. When word gets around, a now grown Braidyn is determined to find the nestlings and the thief. One nestling is recovered with both Braidyn and the merchant learning a valuable lesson, but one remains missing. As he travels to the southlands in search of the precious nestling, he discovers another clan of dragon riders as well as a young woman who will change his life forever. Not only is she the thief, but her reasons are heartbreaking to hear. Little did Braidyn know his future may also have been stolen along with his heart for the beautiful Sarai.
Dragon's Heir
by Kandi J. Wyatt is another fabulous adventure for younger readers that will fill their minds with the magic of dragons, friendships found and worlds from far, far, away. Ms. Wyatt gears her writing to younger minds, and skillfully balancing age appropriate adventure with magnetic, exciting, fast-paced reading!
I received this copy from Kandi J. Wyatt in exchange for my honest review.