by Luke Gracias
My rating: 5 stars
Publisher: Australian eBook Publisher (February 18, 2016)
Publication Date: February 18, 2016
Genre: Horror | Occult
Print Length: 293 pages
A nun commits suicide in front of thousands in Spain. In Australia, Siobhan Russo recognises that nun as her mother, Denise Russo, who disappeared six years ago.

In search of answers, Siobhan travels to the isolated convent where her mother once lived. Here she discovers Denise's final confession, a book that details a heinous betrayal that left her crippled and mute, and Denise's subsequent deal with the Devil to take revenge. In the desperate bargain Denise made with the Prince of Darkness, she wagered Siobhan's soul.

As Siobhan discovers the fate of her soul, she learns that hidden within the pages of her mother's confession is part of The Devil's Prayer, an ancient text with the power to unleash apocalyptic horrors.

And now her mother's enemies know Siobhan has it.

Can Siobhan escape an order of extremist monks determined to get the Prayer back? Can she save the world from its own destruction?

Explicit Content Warning: "The Devil's Prayer" is a historical horror thriller that contains brutality, rape, sex, drug abuse and murder. Readers may find its content offensive and confronting.
The Devil's Prayer

by Luke Gracias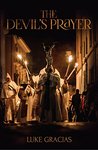 When Siobhan Russo saw the face of the nun who had just committed suicide, she saw the face of her mother, a woman who disappeared six years before. This revelation sends Siobhan on a journey to discover what happened to her mother so many years ago. What she finds is a confession of sorts, a plea for forgiveness from her daughter and the history that led her to run far away.
Do you believe in a power beyond our comprehension? Do you believe that if there is a God, there is a Devil? Everyone has heard of making a deal with the devil, the cost is your soul, or in the case of Denise Russo, the soul of her oldest daughter, should she fail to hold up to her end of the bargain.
Her story started long ago, on the night that held one of the most grievous betrayals a person can face. For Denise, it was a night of torture, as she became the victim of some of the most vile and heinous crimes against a human being. Left for dead, she miraculously survived, paralyzed, mute and powerless to seek justice. That is when he came, the Devil, himself with a promise of revenge for Denise against her betrayers, the animals she once thought of as friends, including the man she was supposed to marry.
The cost of that revenge was high, her daughter's soul if she failed. The only aid she was given was the use of her body once again, but only at night. By day she would once again be trapped within her mind and useless body. But is the Prince of Darkness to be trusted or has he used Denise for something far more heartbreaking and soul crushing? Was she to become the vessel to birth the devil's own child?
Siobhan also finds throughout this gut-wrenching tale that an ancient and mythical message, is tucked between the pages of her mother's posthumous confession and now there are those who will stop at nothing to take it from Siobhan.
Follow along as both Denise's tale and the ensuing tale of Siobhan's desperate attempt to live culminate in a tale of horror, pain, revelations and loss as she realizes she has become entangled in a battle for her very soul.
Brutal, raw and repulsive details come to life under the dagger sharp pen of Luke Gracias as he unwraps his unholy tale of revenge and regret in
The Devil's Prayer>
High on tension, graphically descriptive action, we are thrust into the nightmare this writer has created. Definitely not for the faint of heart or those who are susceptible to night terrors, Mr. Gracias has brought dark fiction to life, blending fact with fiction and conjuring up a tale that in itself is a masterpiece of terror. Never has revenge seemed so repulsive, yet, never has turning the other cheek seemed so impotent. Prepare to be scraped raw and left shuddering by this powerful author.
I received this copy from Luke Gracias in exchange for my honest review.