by Terry Maggert
My rating: 5 stars
Publication Date: September 1, 2016(Amazon) July 31, 2016 (Barnes & Noble)
Publisher: Terry Maggert
ISBN-13: 9781536834550
Genre: YA Fantasy
Print Length: 238 pages
Her guardian angel was pushed.
Keiron was never meant to be anything other than a hero. Born high above in a place of war and deception, he is Heartborn, a being of purity and goodness in a place where there violence and deceit are just around every corner.
His disappearance will spark a war he cannot see, for Keiron has pierced the light of days to save a girl he has never met, for reasons he cannot understand. Livvy Foster is seventeen, brave, and broken. With half a heart, she bears the scars of a lifetime of pain and little hope of survival.
Until Keiron arrives.
In the middle of a brewing war and Livvy's failing heart, Keiron will risk everything for Livvy, because a Heartborn's life can only end in one way: Sacrifice.
Fall with Livvy and Keiron as they seek the truth about her heart, and his power, and what it means to love someone who will give their very life to save you.
Heartborn

by Terry Maggert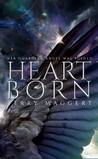 He was a being of purity and love, a guardian angel, destined to be a hero and savior. Keiron's world is one of violence, of deception, but the day he was pushed through time and space he fell into Livvy's world and that was the day he knew his destiny would be fulfilled and this broken girl will become his reason for being.
Livvy has had a lifetime of pain and suffering and she knows it will be short. Her heart has never been whole, but Keiron becomes more than just a friend as he changes a lonely girl's life into one filled with joy and hope for the future of Keiron's world of angels.
Terry Maggert's
Heartborn
is a magical tale of love, sacrifice and embracing your purpose in life. Written with an easy cadence, this tale feels almost part of the mist on a foggy day. A beautiful tale of holding enough love in your heart to give the ultimate sacrifice for those you love.
Told to target the hearts and imaginations of young adults, the emotions are front and center, the youthful romantic feelings are sweet and the message buried within is beautifully done. I can definitely see a huge audience from all age ranges becoming mesmerized by this sweet fantasy tale.
I received an ARC edition from Terry Maggert in exchange for my honest review.