by Sofia O'Hara
My rating: 3 stars
Publication Date: April 2, 2016
Publisher: Sofia O'Hara
Genre: YA Fantasy Romance
Print Length: 12 pages
Young Adult Paranormal Romance - Short Story

Nina loses faith in love and decides to solely focus on her career. However, fate has different plans for Nina and her paranormal romance. Could this ever be reality?
The Dream

by Sofia O'Hara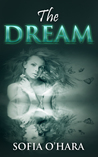 When a young woman finds that love isn't easy and it can be downright painful, she locks any hope for romance out of her mind. Like many of us, she dreams of the perfect love, true, sweet and all hers. She knows when life gets hard, her dream lover will be there with open arms. Will her belief in love become renewed? Will her dreams come true?
From the dream-like cover to the final page, Sofia O'Hara has a sweet tale of young love that comes through quite well. It feels like the beginning, for both Nina and a beautiful tale. There is so much more to this story than we are given and so much potential for a full-length tale of love, hopes for finding it in the real world and the magic of finding it in a dream. Is that dream another realm that could become a reality? Would love more of this tale from a very talented author.
I received this copy from Sofia O'Hara in exchange for my honest review.