Texas Roze
by Iris Sweetwater
My rating: 3 stars
Publication Date: February 20, 2017
Publisher: Iris Sweetwater
Genre: Contemporary Romance
Print Length: 95 pages
Roze had everything a 23-year-old girl should want; a great relationship with her zany mother, an amazing career where she got to meet some of the world's top celebrities, a high-rise apartment in L.A., and a hot boyfriend. But Roze was bored with being the girl everyone was jealous of, and her opportunity to try her hand at being someone else came with the phone call from a lawyer telling her that her father had passed away; the father she had stopped visiting for some reason after she turned 12. He had left her his ranch in Texas to share ownership with her step brother who she hardly knew.
So, Roze did what any other woman would do in her predicament; pack up her life in the city and head to the ranch to find herself. Though, along the way, she may find a man….or two, as well as the father she didn't get the time to know.
Texas Roze

by Iris Sweetwater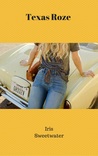 Busy with her big city life, Roze never bothered staying connected with her rancher father after the divorce. Now he is gone and she discovers that love knows no boundaries as he leaves her half of the ranch that held his soul. Roze, unfulfilled in her life of concrete and glitz, takes a chance on starting over and possibly finally learning who her father really was. She did not expect to be welcomed with open arms by her father's new family, but the vitriol held by her step-brother, the ranch co-owner is more than enough to shred her self-confidence, leaving her feeling a failure as a daughter and a person, just as she was beginning to find a purpose and joy in her life. Should she leave? Should she stay and enjoy the adult attentions of a man she knew as a child or will the venom from her step-brother poison even her private life?
There is more than meets the eye going on and Roze is about to discover what her heart has always been missing.
TEXAS ROZE
by Iris Sweetwater is well-written, filled with emotional pitfalls and the tension one would expect from dealing with an outsider coming to town. Iris Sweetwater has the right idea, the right romantic twists, but this tale deserves more depth and detail to truly make it a five star read! I did like it! I would definitely recommend it for those looking for a light read to enjoy on the run, but for me, the "rest of the story" is just dying to be added!
I received this copy from Iris Sweetwater in exchange for my honest review.