by Debbie Mason
My rating: 3.5 stars
Series: Harmony Harbor - Book 3
Publisher: Forever (June 27, 2017)
Publication Date: June 27, 2017
Genre: Contemporary Romantic Comedy
Mass Market Paperback: 352 pages
Love is the best medicine
Olivia Davenport has finally gotten her life back together. She's left her painful past behind, started over in a new town, and become Harmony Harbor's most sought-after event planner. But her past catches up to her when Olivia learns that she's now guardian of her ex's young daughter. With her world spinning, Olivia must reconcile her old life with her new one. And she doesn't have time for her new next door neighbor, no matter how handsome he is.
Olivia may act like she's got everything under control, but Dr. Finn Gallagher knows a person in over her head when he sees one. He'd really like to be the shoulder she leans on, but Olivia makes it clear she doesn't want his help. Since he's returned to town, his waiting room has been full of single women feigning illness. Yet the one woman he's interested in is avoiding him. But with a little help from some matchmaking widows and a precocious little girl, Finn might just win Olivia over.
Primrose Lane

by Debbie Mason (Harmony Harbor, #3)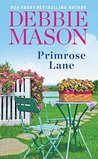 Olivia's life has been one heartache after another, but what happened the day one little girl showed up in her life would throw anyone for a loop and send them spiraling even further out of control. The last person she expected to come to her rescue is the very person who has called her out on her weaknesses. He also has the potential to rock her world forever, if they both take that one leap of faith.
PRIMROSE LANE
by Debbie Mason is one of those sweet romances that has hidden thorns beneath its budding petals. Pretty sure Ms. Mason has thrown in every bump, every heart-tug and made Olivia's journey to happiness one of the rockiest roads ever.
Olivia is in crisis mode and has been since the events that pulled her heart out of her chest and replaced it with agonizing pain. Finn's less than comforting bedside manner belies the compassionate doctor he is. His fear of falling in love, as well as his refusal to actually see it made me want to scream.
Heavy on the "Oh no, that did NOT just happen," this tale is proof that love is an uphill battle and only the strong can survive.
I received an ARC edition from Forever in exchange for my honest review.