My Rating:
Written by: J.L. Sheppard
Series: Hell Ryders
Sequence in series: 2
Print Length: 249 pages
Publisher: The Wild Rose Press, Inc.
Publication Date: June 23, 2017
Genre: MC Romance
Thomas "Cuss" Layne has never wanted for anything, except the beautiful girl he saved so long ago. But she's a rich girl, and he's a biker. For years, he hasn't had a glimpse of her. Still, he's never been able to get her out of his mind. When her life's in danger, he rides to her rescue once again. This time, he's determined to do what he should've done long ago—make her his, in every possible way.
Tiffany Hamilton has never gotten over the bad boy with the sapphire eyes and midnight hair, the boy who once saved her. She wants him--a touch, a taste--but he's never wanted anything to do with her. It's past time to move on. When the sexy biker barges back into her life, saving her yet again and making demands, he makes it impossible to say no to his raw magnetism. She'll finally have everything she's dreamed of…but will it be enough?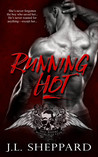 Running Hot
by J.L. Sheppard
Strong and slow building storyline, Running Hot was a great MC read.
As soon as Tiffany stumbled into Thomas' life in school, he knew she was special. He's always had a sweet spot for her and always came to her rescue when she needed it, but he never thought he was good enough for her. Or at least let her live her life, until her rich daddy tries to hire Thomas "Cuss" to take care Tiffany's stalker. Now he's decided to never let her go.
No man has ever lived up to her high school crush, Thomas. Recently out of a serious relationship, Tiffany finds herself being stalked, until her not so prince charming comes to rescue her.
Cuss is a bit aggressive, especially in his speech and demands but it is a lot tamer that other MC romances.
This is definitely a friends to lover story with a slow building romance and enough heat to ignite the pages.