The Sweetest Burn
My rating:
Written by: Jeaniene Frost
Series: A Broken Destiny Novel
Sequence in Series: Book 2
Mass Market Paperback: 352 pages
Publisher: HQN Books
Publication Date: June 27, 2017
ISBN-10: 0373789416
ISBN-13: 978-0373789412
Genre: Paranormal Romance
Itunes:
https://itunes.apple.com/us/book/the-...
Amazon:
https://www.amazon.com/Sweetest-Burn-...
Barnes & Noble:
https://www.barnesandnoble.com/w/the-...
Don't miss the tour at Tome Tender July 24, 2017
The breathtaking second novel in New York Times bestselling author Jeaniene Frost's Broken Destiny series finds Ivy and Adrian rekindling their alliance—and passion—as the struggle for the fate of the world begins…
Conquering a supernatural realm turned out to be easier than getting over a broken heart. But her initial victory has made Ivy a target for revenge, forcing her to reunite with the dangerous—and dangerously sexy—Adrian. Ivy isn't sure which will be harder: finding the hallowed weapon that will repair the crumbling walls between the demon and human realms, or resisting Adrian, who's decided that come hell or high water, he will make Ivy his.
At first, Adrian tried to resist his feelings for Ivy. Now, determined to break the curse that dooms their love, he's vowed to save her and to have her. If only he can persuade her to forgive his past sins. But defying destiny—and surrendering to the smoldering desire between them—will bring consequences and sacrifices they never imagined…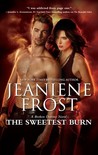 The Sweetest Burn
by Jeaniene Frost
The Sweetest Burn
was a long time coming. It took me awhile to bring the happenings of
Beautiful Ashes
into play since it was 3 years ago this series debuted but I feel that
THE SWEETEST BURN
can stand on its own.
The Sweetest Burn
leaves off a few months after
The Beautiful Ashes
ended. Ivy, her sister and a gargoyle disguised as a seagull are all living in Florida near the beach. Ivy is wondering what the heck has happened to Adrian, since he's just disappeared from her life. Ivy is fuming mad about Adrian's disappearance only to find herself suddenly reunited with Adrian, with a little help from Zach.
Zach has a mission for Ivy, Adrian and the gang, find the next holy item of power before the demons.
I really enjoyed most of the storytelling, although a large portion of the book seemed to have Adrian's and Ivy's discussing their predisposed destiny which inevitably made the epilogue predictable and not a surprise.
Frost writes snarky, fun characters adds a pretty steady action extreme plot then twists an interesting blending of religious beliefs to formulate a colorful and vivid clash between good and evil and all the gray areas in between.