The Tannell's Family Secret
by Lashonda Beauregard
My rating: 4 stars
Publication Date: February 22, 2018
Publisher: Lashonda Beauregard
Genre: Family Saga
Page Count: 64 pages
The Tannells are the wealthiest family in the fictional town of Bayouville, Louisiana. They seem to have it all with money, power, and fame. Thomas and Savannah have always tried to paint the perfect picture of the Tannell family, but are they really perfect?
As a hurricane is approaching Bayouville, Louisiana, Mr. Tannell is dealing with a storm of his own. What secret could Mr. Tannell be hiding that could shatter the Tannells' image and empire?
What could the Dawson-Rollands, an average middle-class family, have that the Tannells don't?
The Tannell's Family Secret is a suspenseful, fiction story of two families, one rich, the other middle-class, that shows that things aren't always what they seem.
The Tannell's Family Secret

by Lashonda Beauregard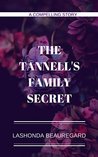 Money can't buy happiness or love or respect. Perhaps money has become the root of all evil for a wealthy family whose patriarch has a closet full of secrets from the past that have come back to haunt him in a most deadly way.
Small town values and small town secrets will come to light as two families' paths cross once again after death brings middle class Jackie and her mother back home to Bayouville, Louisiana and Jackie renews her friendship with the wealthy friend she once knew. She will find that behind the wealthy façade, cracks have formed and Thomas Tannell may find the world he has so carefully crafted is about to crumble at its roots. His actions one fateful night will prove beyond a doubt that money, while it buys beautiful things, may be the root of all evil.
THE TANNELL'S FAMILY SECRET
by Lashonda Beauregard is a quick read that exposes the inner workings of two families, one based on love and one based on appearances. Ms. Beauregard has created a tale that starts out simple enough, yet turns dark in a mere second as a tale of suspense weaves its way across the pages. Although short on pages, readers will feel the small town atmosphere, and find characters to emotionally bond to, good or bad!
I received a complimentary copy from Lashonda Beauregard!